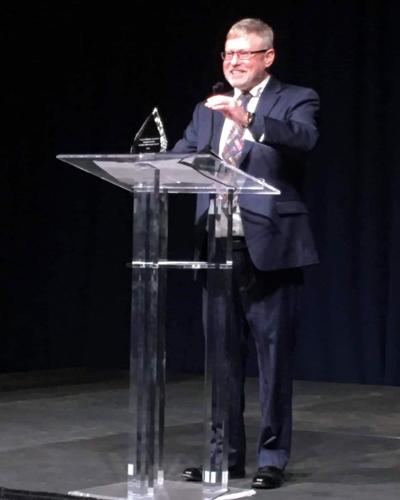 From the Loudoun Times:
One of Loudoun County's wine originals was honored with a lifetime achievement award in Richmond Tuesday night.
Jim Corcoran, a founder of Corcoran Vineyards in Waterford, was presented the Gordon Murchie Lifetime Achievement Award during the annual Governor's Cup Wine Gala.
The Gordon Murchie award, named after a past Virginia Wineries Association executive director and early Virginia wine industry stalwart, is presented to someone who has displayed "meritorious service to the Virginia wine industry over a long period of time," according to the VWA.
"Truly surprised. My family kept it a secret. Truly blessed, it feels amazing," Corcoran told the Times-Mirror. "I forget how amazing the people are in the wine industry. There are now 312 wineries now in Virginia. So much has changed."
Corcoran has spent most of the decade battling cancer, traveling across the country for round after round of treatment.
"This industry stood behind me and has been my rock," he said.
Founded in 2002, Corcoran Vineyards was among the first dozen or so wineries in Loudoun County. Now, there are more than 40, the most of any county in Virginia. Corcoran also has a brewery and cidery.
"A true champion of our industry, he embodies the spirit of Virginia wine with passion, presence and enthusiasm unmatched," said Kirk Wiles, chairman of the Virginia Wine Board, who presented Corcoran with the award.
A father of four, Corcoran was presented the honor at the Governor's Cup Gala, which serves as the awards ceremony for the annual Governor's Cup Wine Competition. The competition is produced by the gubernatorial-appointed Virginia Wine Board, the Virginia Vineyards Association and the Virginia Wineries Association, which owns and manages the competition.
Winning the distinction as the state's top wine in this year's contest was Horton Vineyards' 2016 Petit Manseng.
https://www.loudountimes.com/business/loudoun-county-s-jim-corcoran-honored-with-wine-industry-lifetime/article_73a97818-3a2d-11e9-b927-4fc161907014.html